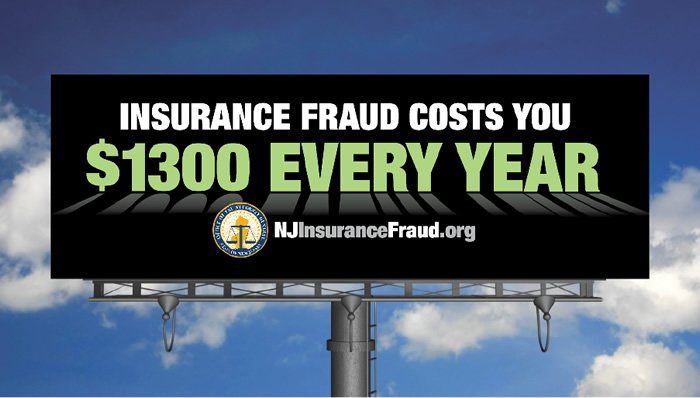 NJ Insurance Fraud ?>
NJ Insurance Fraud
The highway billboards are loud:  "Insurance fraud costs you $1300 every year."  You are invited to visit www.njinsurangcefraud.org.  When you get there, you will discover you have been redirected to the NJ state government website, office of the attorney general.
It's a great public relations campaign.  How the OAG calculated $1,300 per year in losses is not so clear.  A review of the ad series says that it's $1300 per family.  According to the US Census, NJ has 3.2 million households.  That works out to $4 billion in fraud every year.  That's a chunk of change worth employing a hundred investigators and attorneys in the Office of the Insurance Fraud Prosecutor.  Each employee should be chasing $41 million in fraud.
Billboards promise prison time for fraudsters. Â Health care fraud brings the stiffest penalties, with penalties as high as 5-10 years and up to five times the amount benefit sought. Â Steve Adubato interviews.
How serious is the state about chasing these crooks – besides the billboards and TV ads?  Whistleblowers are invited to write, call, or type their stories into the state website.  The state offers a certain amount of protection from a whistleblower, but in the overall scheme of things, it's not much.  When you turn on an employer – and who else will have access to enough data to seal up a case? – you've given up that job.  Chances are, you've given up a career in that industry.  After all, who wants to hire a troublemaker?  New Jersey offers you a reward of up to $25,000, IF the case results in a conviction.  To get that conviction, you will probably be called on to testify, to attest to the veracity of the documents you provided.  It's not as if $25,000 will take care of you in your extended period of unemployment.
If there were really $4 billion in fraud that the attorney general's office could catch, the NJ Legislature would be giving the OAG more tools to catch the crooks: more reward money and a bigger staff.  Instead it proposes and discusses making a state animal abuser registry.